EYFS
At Lamberhurst St Mary's primary school our Early Years Foundation Stage Reception Class, provides children with a firm foundation on which they can become life-long learners.
It is our intent that the children develop emotionally, creatively, verbally, physically, spiritually and intellectually. We set high expectations for all areas of our curriculum and create knowledge-rich learning opportunities, which capture the children's interests, supports their cultural capital and prepares them for their next steps in learning into KS1 & KS2.
We aim to inspire children to have a 'love of learning' through our well-planned curriculum and learning environment. We value the uniqueness of every single child and ensure that all of their needs are met, in order for them to achieve their full potential.
Our vision is that every child and adult at Lamberhurst St Mary's is able to be and wants to be the very best they can be, because they have the opportunities and the support to do so
'Learning for Life in the love of God'
our Eyfs curriculum
The EYFS curriculum at Lamberhurst St Mary's follows the statutory Framework for EYFS which has 7 areas of learning that are split into:
Three 'Prime' areas
Personal, Social and Emotional Development (PSED)

Communication and Language

Physical Development
Four 'Specific' areas
Literacy

Mathematics

Understanding the World

Expressive Arts and Design
At the end of EYFS we assess children against the 17 'Early Learning Goals' (ELGs). Children have to achieve a '2' (expected) in the first 12 areas of learning (this excludes Understanding the World and Expressive Arts and Design) to achieve an overall 'Good Level of Development' (GLD) at the end of the EYFS.
We also use the DfE Non-statutory guidance, 'Development Matters' document to support planning, which states:
'No job is more important than working with children
in the early years'
Our c
arefully designed and dynamic curriculum builds on children's existing knowledge and skills to prepare them for the next stages in their learning including transition to Key Stage 1. It is a planned curriculum which leaves scope to also explore children's own interests and foster a love for learning.
There is an emphasis on books, which fosters a passion for stories and reading, helping to develop a rich and varied vocabulary in support of children's cultural capital.
Subject Specialists teach Music, RE and French in the Reception Class and throughout the school.
continuous provision and enhancements
At Lamberhurst St Mary's School we create an enabling environment, providing resources that children can access independently, with enhancements, which make links to particular themes, topics or ideas. These are continually updated and added to the learning environment, which ensures that children are engaged, motivated and have opportunities to develop their individual creativity.
The Early Years Curriculum places important emphasis on helping children to build positive relationships with the adults and other children around them, ensuring that children can learn to be independent. We instil high expectations of behaviour and positive attitudes to learning.
HOW DOES THIS LOOK WITHIN OUR SETTING?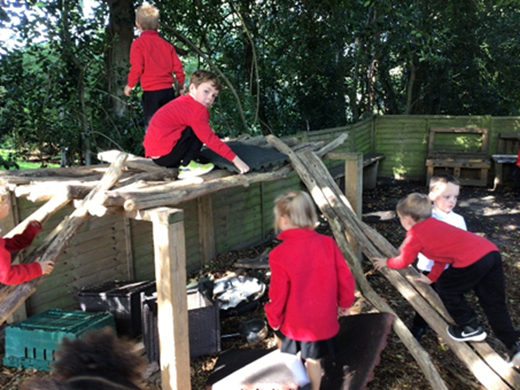 A day in the reception class at Lamberhurst St Mary's School includes a balance of whole class directed teaching, adult led activities, one to one and small group supported learning and child-initiated activities where the children can explore and reinforce their skills and knowledge. Adults use skilful questioning to support and develop the learning that children choose for themselves.
As well as our Indoor & Outdoor Classrooms, the children have access to the 'Lower and Upper Dens' and a large playground.
LEARN THROUGH PLAY -
WE LOVE TO PLAY

!

Using play is a vital part of a child's development and a great amount of learning and social development is achieved through both structured and unstructured play.
"Play is a child's work and the means whereby they grow and develop." Maria Montessori
BEHAVIOUR AND ATTITUDES TO LEARNING
We have high expectations for all our children and when the children arrive in Year R in September and are new to Primary School, we quickly introduce routines and expectations for the rest of their journey through Lamberhurst St Mary's School.
High standards of behaviour and a responsible attitude towards work and play are modelled, encouraged and expected. We focus very much on growth mindset and celebrate children trying their very best. Our aim is for children to become self-motivated and proud of their own efforts.
READING AND PHONICS
At Lamberhurst St Mary's School we teach children Early Reading Skills using the Read Write Inc scheme (RWI).
Read Write Inc Phonics is a proven synthetic phonics programme that ensures early success in reading and gives our pupils the best possible start with their literacy. It provides a structured and systematic approach and ensures all children can progress at their own pace, reading fluently and with speed.
Books used to teach our children to read are matched exactly and with fidelity to this scheme.
MATHEMATICS
We use high quality resources throughout the school to ensure consistency for learning and are part of the Kent and Medway Maths Hub.
Teacher Directed lessons follow the NCETM Mastering Number Programme, supported by CBBC 'Number Blocks' and White Rose Maths for Geometric Pattern, Shape, Space & Measures.
Manipulatives (maths resources) such as Numicon, beads, counters and items from the natural world are used to support the children's conceptual knowledge of Number, Shape & Space in their lessons and their play.
COMMUNICATION WITH PARENTS
We believe in developing a strong partnership with parents and carers so that they can take an active role in their child's learning. We communicate weekly about what the children have been learning, as well as sending home a weekly vocabulary sheet with a link to the book of the week.
The children conference with their teachers before each parents evening, in order to share their thoughts and ideas about their learning, friendships and what they enjoy about school. Parents have the opportunity to talk to the teachers at the end of every school day.
LAMBERHURST ST MARY'S COMMUNITY
Younger children are supported by 'Year 6 Buddies' as they are introduced to Lamberhurst St Mary's School traditions throughout the year. Their Buddies meet them at the school gate each morning until they are confident enough to come into school on their own or with their friends. They show them the expectations of behaviour when we celebrate Harvest Festival, Annual Remembrance Service, Christmas, Ash Wednesday and Easter Services, Sports Day, Open School Day and the Whole School & Family Summer Hike.